RELATED VIDEO
Driver fuel riot in Bursa: we are ready to turn off the ignition (SPECIAL NEWS)
CANSU ÖZDEMİR / A BURSA AVUI
Working on the Küçük Sanayi Görükle route in the Nilüfer district of Bursa. minibus drivers diesel of the price He reacted to the fact that he was over 30 lire. Expressing that they will turn off contacts if necessary to reduce prices, drivers said they work at the expense of vehicles and often do not even receive a daily wage.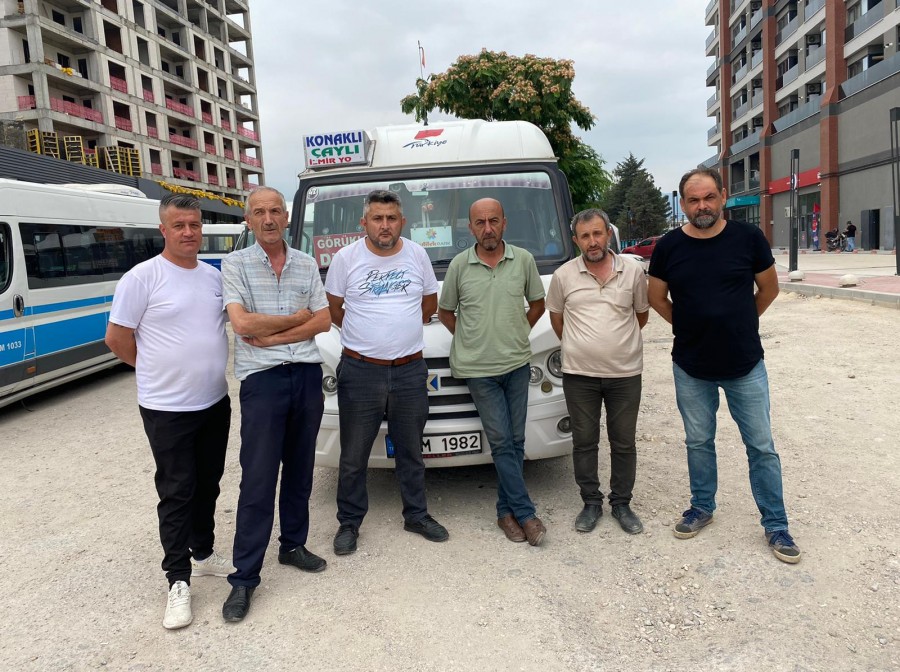 After the price of diesel exceeded 30 lire, the citizen went to social media.close contact with Turkey"They are raising their spirits like an avalanche. Bursa drivers have their thoughts on the issue. Until today in Bursa transferred. Minibus drivers working on the Görükle route claimed that they could not even earn a daily wage and that they were working at a loss, and that they would take the action of closing the contact so that the diesel would fall.
Minibus driver Cevdet Bayrak stated that only daily diesel fuel could be allowed. Claiming that he is the driver, Cevdet Bayrak asked state authorities to reduce the price of diesel and said they would close contacts if necessary. Bayrak, describing his complaints, said in a statement: "What if people turn off contacts? We turn off contact, what will people take home? A solution should be found for this situation. "If our state and our municipality contribute, we will also close the contact. We are in a very bad situation. The other day." I had been added 515 pounds of diesel, and the money I was charged was 560 pounds. I am a driver, 200 Liras for my daily salary, 100 for food. What will be left for the owner? Will the remaining money go to the vehicle, the driver or the owner? There are expenses. "We are in a very disadvantaged situation," he said. .
The driver of the minibus Hüseyin Verev stated that the vehicles are running at a loss and that there will soon be no vehicles to carry passengers due to diesel prices. Claiming that there are 135 vehicles at the stop and that 135 vehicles are ready to turn off the ignition in order to reduce diesel prices, Hüseyin Verev gave the following words in his statements;
"Our problem is that diesel is high. I'm calling the authorities; we have to do something. If we don't do something, the condition of the dealers is very bad. All the cars are running at a loss right now. "We can't find a vehicle to carry passengers. We'll close the cars. We need to be heard. We have 135 vehicles at the stop. We need to hear our voices." "As long as there is unity, we are ready for anything. We are lost as traders. We have no money, there is no discount on diesel. We are working with losses, we cannot make a rise for the citizens. A solution is needed. . Found."
The driver of the minibus Hüseyin Fındıkçı stated that they could not make money from their work, but they continued to serve to keep people from suffering. Hüseyin Fındıkçı, who said: "We are ready to close contacts so that diesel will fall. The situation is very bad. We are doing this work not because we earn money, but for the sake of good service. passengers will suffer, "said Hüseyin Fındıkçı, and called on the authorities to do the necessary work to reduce diesel prices.
Minibus driver Mehmet Yiğit said that as a driver, they had a very difficult time dealing with diesel prices. Stating that they often do not even receive a daily salary, Mehmet Yiğit said in his statement: "We are in a very difficult situation. Today the diesel is 30 lira, we carry passengers for 5 lira. We have zero chances of survival. We only work with diesel. If we raise 900 pounds, we buy 600 pounds of diesel. We can't even get our daily wage. We suffer every day, "he said, adding that his endurance has diminished.
Other Bursa news: Click on regional news